Where in the UK are you most at risk of being a victim of theft?
When deciding on a place to live many things must be considered such as house prices, job opportunities, quality of life, and of course, safety and security.
One safety aspect to consider is the number of reported breaking and entering cases or other theft-related crimes in the area you're living or looking to buy, that could impact you or your friends and family.
Some areas of the country have a much higher potential for theft than others, and we have taken a deep dive into government data to discover the breaking and entering capitals of the country. Many people in these areas may be asking how to secure their homes efficiently, but in all areas, it is important to have good strong locks to minimise the risk of your property being broken into.
To help secure your property and garden, the experts at Hiatt Hardware have included tips on how to make your home safer.
Worst areas for theft offences
1) Westminster, breaking and entering score of 9.98/10:
Westminster is the breaking and entering capital of the country, almost achieving the maximum score of ten out of ten! The London borough is home to some of the biggest tourist attractions in the world, such as Buckingham Palace, Big Ben, and Westminster Abbey, consequently, the large volume of visitors helps boost the number of theft-related crimes that occur. Thefts from people (often in the form of pickpocketing) occur at a rate of almost 900 per 10,000 people, this is over 600 more than anywhere else in the country!
2) Kensington and Chelsea, breaking and entering score of 9.71/10:
Another central London borough is the second area of the country most at risk from theft-related crime, with a score of 9.71/10. Kensington and Chelsea are one of the wealthiest areas of the country, meaning there is plenty of motivation for would-be thieves and burglars. The average house price in the borough is just under £2.7 million, and an average of 93.47 burglaries occur per 10,000 people. It also scored very highly for vehicle offences, with almost 200 per 10,000 people, the second highest in the country.
3)Camden, breaking and entering score of 9.61/10:
Another London borough completes the top three areas with the highest prevalence of theft-related crimes, in fact, areas of the capital account for six of the top ten theft-ridden areas. After Westminster, Camden has the most robberies per 10,000 people (60.27), as well as the second-highest level of theft from a person, and over 60 bicycle thefts per 10,000 people.
Areas with the lowest risk of theft offences
1) North Norfolk, breaking and entering score of 0.36/10:
North Norfolk is a sparsely populated area of rural England, and it is also the safest part of the country when it comes to theft-related incidents. There are only 1.06 robberies per 10,000 people, as well as just 1.84 thefts from a person per 10,000 people, and just over 15 robberies per 10,000 people.
2)Broadland, breaking and entering score of 0.40/10:
Neighbouring North Norfolk is Broadland, a district named after the distinctive Norfolk Broads. It is also a rural area with a small population and few large settlements, which is perhaps a reason why the threat of theft-related crime is so minimal. There are the fewest burglaries per 10,000 people in the country here, just 12.25.
3) South Norfolk, breaking and entering score of 0.55/10:
Completing the top three is yet another small district in Norfolk, South Norfolk had an overall breaking and entering score of 0.55/10. Although it does not perform amazingly in any one category, South Norfolk has consistently low rates of many types of theft-related crimes, and as a result, it is one of the safest places in the country.
Areas with the highest theft anxiety
To discover who has the most anxiety about theft we used Google to see how many searches for burglar alarms there had been in major cities across the country.
1) Manchester, 75.76 searches per 10,000 people:
The highest rate of theft anxiety is in Manchester, where over 75 in 10,000 people searched Google for burglar alarms, indicating that Mancunions have worries about their houses being broken into. Perhaps, there is a good reason for this fear as there are over 107 burglaries per 10,000 people in the northern city.
2) Leeds, 23.84 searches per 10,000 people:
Although there were far fewer burglar alarm searches than in Manchester, the people of Leeds have the second highest theft anxiety in the country. The West Yorkshire city had just under 24 Google searches per 10,000 people. There were over 73 burglaries per 10,000 people in Leeds and almost 95 shoplifting crimes per 10,000 people.
3) Sheffield. 22.96 searches per 10,000 people:
Another Northern city completes the top three and there was fewer than one search per 10,000 people difference between Sheffield and its Yorkshire neighbour, Leeds. Sheffield has a higher burglary rate than Leeds, but the fear of homes being burgled is less.
Tips to keep your home safe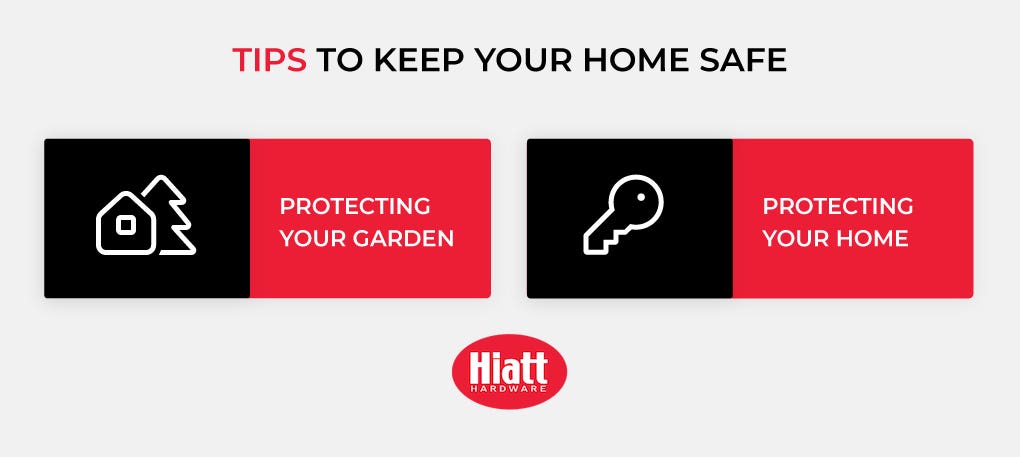 Protecting your garden
In the UK the average garden contains £2,334 worth of valuables, therefore it is incredibly important to keep it secure from theft. Thieves love unprotected gardens because they are often far easier to access without being seen than the inside of homes and without good defences they can steal your belongings in no time.
Fortunately, there are affordable methods to keep thieves away from your gardens - such as not tempting them in the first place. Leaving valuable items such as bikes and lawnmowers out in the open is a sure-fire way to attract thieves, keeping them stored away inside or in a garage/shed is the best way to go.
Getting a good garden lock, padlock, or bolt latch on your garden gate is a very good deterrent for thieves, if the garden cannot be accessed or escaped easily they will often give up. It is also important to secure the edge of our garden with a good solid fence at a height that cannot be easily vaulted, make sure it is in good condition and lacks holes or gaps.
At night your gardens may be more vulnerable so security lighting can be used to alert you to the presence of intruders. Additionally, security cameras or even mock security cameras can have the effect of deterring criminals.
Protecting your home
Low-quality or poorly secure locks on your property can make the lives of thieves far easier than they should be, consequently, it is important to have good security locks on your doors - nightlatch locks and mortice deadlocks are two traditional styles that offer great protection for your external doors. Making sure that door locks are properly installed is also important, although you can do it yourself, hiring an expert if you are not sure is always the safest option.
More modern systems exist such as digital locks, for extra security you can add cameras to your locks or use a digital doorbell so that potential thieves not wanting to be caught on camera are put off your home.

Methodology
All crime data for local authority areas in England and Wales was found on the government's recorded

crime data by community safety partnership

.

We then calculated the crime rates per 10,000 people for each local authority area. Note: 'The City of London' was removed as fewer than 10,000 people live there.

We then used a PERCENTRANK formula to give every local authority an overall score out of ten.

For the anxiety section, we selected the twenty biggest British cities by population and used

Google Keyword Planner

to see how many searches for 'burglar alarms' there have been between May 2022 and April 2023. We then calculated the number of searches per 10,000 people.