When you're looking for the right door lock types for your external doors, there are a number of considerations that need to be made.
One of the most important factors when changing locks is what material your front door has been manufactured from.
Amongst the possibilities are timber, aluminium, glass, composite, and uPVC - each having its own unique pros and cons.
Does the material your door is made of affect the type of front door lock types you need? Well, that's what we look at here today.
Here we provide some guidance on how to find the ideal new locks for your purposes.
AN OFTEN OVERWHELMING CHOICE
When looking for replacement locks, you can feel overwhelmed, with a wide range of lock mechanism and security aspects to consider.
Should you use a master key system, a euro lock cylinder, a mortice lock combined with a night latch or something else?
As we progress through the article, we'll be looking at the types of front door that exist, what they offer, and the types of door locks that suit each one.
So, if you're ready, then we'll begin.
uPVC Doors
Look inside your average door made from uPVC and you'll find a fully insulated steel core, which is covered by Unplasticised Polyvinyl Chloride - which is where the material gets its name.
The fact that this type of door is made from steel makes it extremely durable and hardwearing. It's a cost-effective option too, which explains why they're so widely used.
Other benefits of a uPVC door include:
Extremely low levels of maintenance are needed, with just a regular wipe-down required to keep the surface looking great.

High durability means uPVC doors (and windows) will remain looking great for many years to come

uPVC offers great insulation levels, offering good energy efficiency to your property and saving money on your bills
Cons of a uPVC Door
Compared with timber and composite doors, uPVC is a little restrictive in terms of style, as it typically only comes in white.
While this might be suitable for modern properties, it often doesn't fit in with traditional or period homes.
What Type of Front Door Lock Should I Use With uPVC?
Typically speaking, you'll find that a uPVC front door will have either key-operated euro cylinder locks or multi point locking system products.
Out of those available for uPVC doors, the multi-point locking system (MPLS) is the type that will secure your house most effectively, as it anchors at various points in the door frame.
That's because MPLS locks aren't susceptible to lock bumping in the same way as euro cylinder locks are.
While the 5-lever mortice lock is considered to be the most secure type of lock for your front door, it's not possible to install one in a door made from uPVC.
SMART LOCKS FIT MOST TYPES OF FRONT DOOR
One of the types of door locks that are often overlooked is the smart lock. Smart locks can essentially be fitted into any type of door, with some even able to be retrofitted to an existing deadbolt lock.
These new locks can essentially fit any type of door - subject to compatibility, so this is the only time we'll be mentioning this type of locking mechanism.
Composite Doors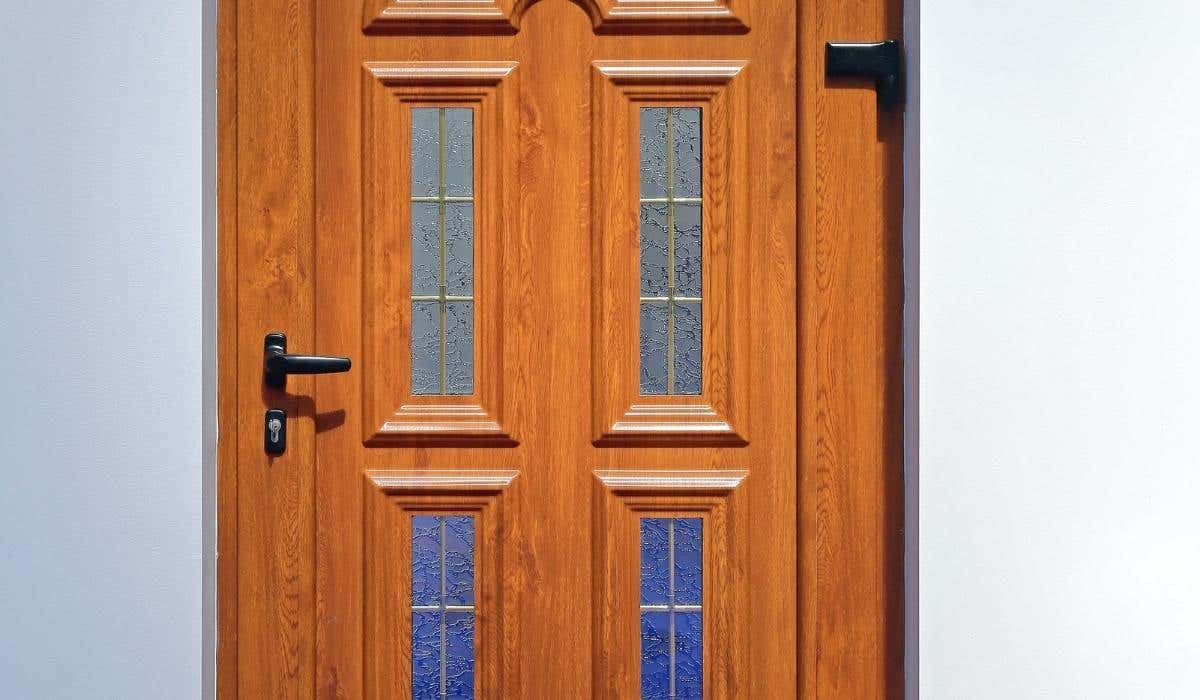 The relative newcomer to the sphere of residential doors is the composite door, which was invented during the 1990s.
Comprising a variety of different materials (hence the name), they're designed to be both robust and aesthetically pleasing.
The external part of your typical composite door is made from fiberglass, which can be used to create a wide range of colours and wood-like effects.
Panels made from this composite material are then fused to the frame using uPVC before the core is injected with polyurethane insulation.
Benefits of having a composite front door include:
Aesthetically pleasing

Hardwearing

Draft-resistant

Secure against intruders

Easy maintenance
Cons of a Composite Door
All the benefits mentioned above for a composite door are great, but they do come at a high price. You can pay upwards of £1,000 for a good composite door, so it's amongst the most expensive options out there.
What Type of Front Door Lock Should I Use With a Composite Door?
When looking for the right door locks for a composite font door, the same rules (that relate to uPVC) apply in terms of what it is and isn't possible to install.
With uPVC and composite doors, it's impossible to use a 5-lever mortice as a door lock replacement for this kind of front door.
What this means is that, once again, it will need to be a euro cylinder lock or a multi point locking system.
Timber Doors
Wooden doors are the most popular you'll find, particularly as it's the most traditional material and one that's been used in homes for centuries.
Even with the modern advancements in materials, timber remains one of the most popular, due to its resilience, security, and obvious aesthetic charm.
No matter how advanced the material, wood will last longer when it's looked after, so it's perhaps not surprising why it's still so widely used.
When maintained properly, a wooden door can last as long as 30 or even 40 years, offering authenticity and attractive curb appeal.
Benefits of a wooden front door include:
You can paint a wooden front door any colour you like

It can be planed down if it's too large for the frame

It's a more environmentally-sound option
Cons of Timber Doors
That said, with wooden doors, you do need to keep on top of maintenance on a periodic basis to ensure that it is able to stay looking its best in the face of the British weather.
They can be a little costly, depending on the quality of the craftsmanship and the specific type of timber that's used. If you opt for walnut or oak, it will cost you a pretty penny.
What Type of Front Door Lock Should I Use With a Wooden Door?
The good news when talking about door locks and wooden doors is that you get the flexibility to use whatever you want to use.
The best option to choose in this case is a 5-lever mortice lock, which is known to be the most secure type - so long as they're insurance-approved.
In order to be so, it needs to be one of the many 5 lever mortice door locks that adhere to British Standard 3621 - due to it being much more resistant to lock picking.
BRITISH STANDARD Approved Door Lock Replacement
When you go for a highly secure BS3621 door lock replacement, you're not only able to keep out even the most adept burglar, but also ensure your insurance premiums stay low.
Should your mortice lock not be compliant with british standards, you should look to install a night latch as for added security.
All that said, you could also choose to install a euro cylinder lock or a rim cylinder lock for your door lock replacement, such is the versatility of timber.
Aluminium Doors
The aluminium front door is another option you have as a homeowner, and it's a choice that offers a range of benefits.
To begin with, aluminium doors are better insulators than their wooden or uPVC counterparts, meaning you save money on your energy bills.
They're extremely light in comparison too, making them an ideal choice for anyone looking for a lightweight door that's easy to open.
Other benefits of an aluminium front door include:
Incredibly low maintenance - even when compared to uPVC doors

They're extremely strong, so they're ideal for large entrances

Easy to match the existing aesthetic of your house
Cons of an Aluminium Front Door
Along with timber and composite doors, aluminium types are on the pricey side of things and if not maintained, aluminium can oxidize.
What Type of Front Door Lock Should I Use With an Aluminium Door?
Again, like wooden doors, the aluminium variety offers freedom in terms of the front door lock that you can use to keep your property secure.
You have a couple of door lock replacement options
It's possible to use either a euro cylinder lock or mortice lock for your aluminium door, although as previously stated, it's the former that provides the most security in terms of security.
Glass Front Doors
Lastly, we look at the glass front door, which is an option that allows in lots of natural light.
Depending on the type of glass used in its construction, varying degrees of sunlight can be allowed to enter your house without it becoming too overwhelming.
Also known as Glass Entry Doors, they can make your porch or lobby seem much cozier, and frosted or opaque glazing provides the necessary privacy.
Benefits of glass doors include:
Extremely low levels of maintenance needed

Aesthetically pleasing

Easy to match to your home's style
Cons of a Glass Front Door
Should you choose a particularly transparent type of glazing for your glass front door, then people outside will get an unrestricted view of your property.
Also, in terms of security, burglars may have an easier time getting in by breaking the glass and turning the lock. However, you can get toughened glass that stops this from happening.
What Type of Front Door Lock Should I Use With a Glass Front Door?
When looking for the right door lock for a glass or paned front door, this one's a little trickier to answer, as glass doors come in a wide range of materials including all of those mentioned above.
It could be that a rim cylinder lock is what's called for from your local hardware store or maybe even a mortice lock.
A Euro Cylinder Lock or Mortice Lock Might Suit
As such, the best door locks for your purposes will depend on which type you have on your property, so you should refer back to the type you have.
However, what you should stay away from with a glass front door are front door locks that feature a latch that can be operated without a key from inside i.e. a sash lock or night latch.
Whatever Door Locks You Choose - Make Sure They're Secure!
So, there you have it, a wide range of door styles, each with its own specific needs when it comes to door locks.
We'd recommend going with mortice locks when you can for your front door lock, and 5-lever varieties that meet BS3621 standards. Obviously, that's not always possible.
When looking for a door lock replacement, you'll often need to go with what's already in place for the sake of ease, but with a new door, you've got a choice to make about the new lock you're going to purchase.
Whichever new lock option you go with, you must have your home's security first and foremost in your mind, before deciding on the style and finish.
As long as the choice you make is a sound one, you'll be protected against a break-in, as well as covered by your house insurance.